The JTB Group leverages the complementary strengths of its companies to forge dynamic synergies that allow us to deliver the most reliable, attentive and individualized service possible.
JTB Hawaii, Inc. is a subsidiary company of JTB Corporation, which is the leading travel agency in Japan. JTB Hawaii, Inc. consists of the Corporate Planning, the Corporate Operations & Human Resources, the Accounting & Finance, the Management Information Systems, and the Community Relations.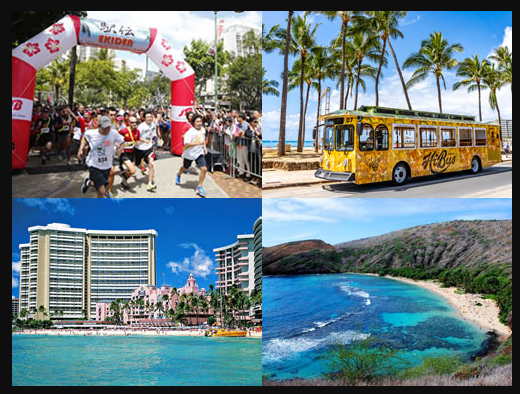 At JTB Hawaii, your happiness is truly our happiness.
Travel Plaza Transportation, LLC President Yujiro Kuwabara
Throughout the years, this company was known as JTB Hawaii, Inc. JTB Hawaii Travel, LLC continues to make tour arrangements for mostly Japanese customers visiting Hawaii, but is now branching out to handle other clientele as well. JTB coordinates hotel stays, sightseeing, optional tours like snorkeling, dolphin and whale watching, neighbor island visits, dinner cruises, banquets and events, and complete wedding arrangements. JTB Hawaii Travel, LLC is made up of several divisions: Planning & Arrangement Division, Customer Service Division, Wedding Business Division (Aloha Wedding), Web & Media business Division, Optional Tour & Trading Division.
Copyright © JTB Hawaii, Inc. All Rights Reserved.
From sightseeing excursions on the islands of Oahu and Maui and roundtrip transportation to and from the attractions, to charter bus service and wedding limousines, our comprehensive suite of ground transportation services and friendly, experienced drivers will help you savor your Hawaii experience – safely and reliably.
JTB Hawaii Travel, LLC has the experience and resources to offer its guests unparalleled levels of attention and care and an unsurpassed array of options and services. We also operate the Oli Oli Trolley, Hawaiis most convenient and accessible trolley service. Our entire staff is committed to your safety and complete satisfaction. We look forward to serving your needs here in Paradise.
Hawaiis Premier Destination and Event Management Specialist
Without compromising our status as Hawaiis premier golf tour company, we have expanded our lineup of services to include fruit and flower baskets as well as rent-a-car operations. We are excited about the challenge of earning and retaining the confidence of our guests and finding new and innovative ways to satisfy their needs here in the Aloha State.
MC&A, Inc. is the leading destination and event management company in Hawaii with a reputation of providing the highest level of quality service in all segments of the Meetings, Incentive and Convention market. We provide a complete range of meeting planning and event design services from Hawaiian flower lei greeting and meeting room coordination to creating a dynamic final night gala. We also provide leisure travel services to wholesale tour operators and consumers, such as airport meet and greet and recreation and sightseeing activity services. Besides these, we offer cruise services to all major cruise lines arriving to the islands too. With our full range of travel services and dedicated professional staff, we are Hawaiis total destination management company.
As part of JTBs group-wide revitalization efforts, JTB Hawaii merged with JTB Overseas Development in July 2010. Expanding on its traditional role as a locally-based travel service provider, the new JTB Hawaii has emerged as the Islands travel department store of choice, offering a comprehensive array of golf tours, bus and rent-a-car services, Web and Media businesses, and more.
Handle golf tours and other miscellaneous business such as Daily Service (fruit baskets & flowers), Moku Nani Hiking Tours, Japanese Answering Service, Nippon Rent-a-Car, and JTL Wireless (Cellular Phone & WiFi Router rental services to tourists).
Providing services in multiple languages in English, Japanese, Chinese, Korean, JTB Global Travel Service provides a wide variety of travel services such as hotel arrangements, sightseeing & activity excursions, wedding arrangements, etc., for visitors from expanding markets such as China, Korea, and from other countries around the world.With its pristine waters, balmy climate and endless shopping and dining possibilities, Hawaii is truly a timeless tropical paradise. From hotel arrangements and event planning to customized, full-service travel support – all delivered with that special touch of Aloha that has made Hawaii a preferred destination the world over – the experienced, knowledgeable and international staff at JTB Global Travel Service is sure to meet and exceed your expectations.JTB Global Travel Service, LLC President Hiroyuki Kitagawa