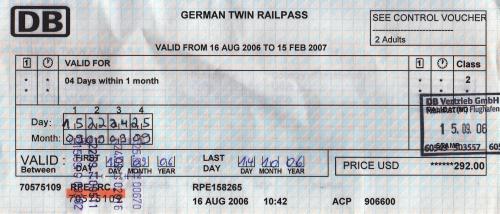 If your trip includes other countries besides Germany, there are a plethora of Eurail international passes available that cover various combinations of countries and time periods. It might seem unwieldy at first, but youre sure to find a pass that fits your particular need. The Rail Europe travel service and Rick Steves website (links below) have good comparisons to help you sort it all out.
Besides being the fastest, the ICE is also the most luxurious of GermanRail trains. These trains feature adjustable cushioned seats, individual reading lights, piped music from armrest jacks (bring your own headset), conference rooms, public telephones, and fax machines. First class passengers also have video players at their seats.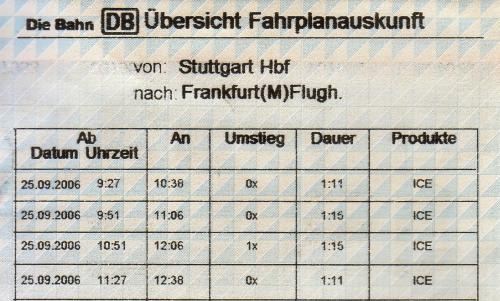 Most of the rolling stock in Germany has been recently upgraded with fewer and fewer of the old hand-me-downs still around. But you will see many trains in big cities (especially the Frankfurt and Rhein-Ruhr areas) with exteriors covered by graffiti. Generally, its mainly the lower-end local and regional trains that suffer from these problems and no matter what the exterior of the train looks like, the interior will usually be quite clean. Oftentimes, train sets will contain cars or locomotives from neighboring countries.
When you purchase seat reservations, you have several options. First, you can specifyGroraumwagenorAbteilwagen. TheAbteilwagenhas compartments that open onto a corridor along one side of the car. Each compartment has four to six total seats facing each other. TheGroraumwagenis an open coach car with varying seat configurations. Youll also want to specifyrauchen(smoking) ornicht rauchen(non-smoking). If you want a window seat (am Fenster), aisle seat (am Gang), or a table (am Tisch), be sure to specify that, too.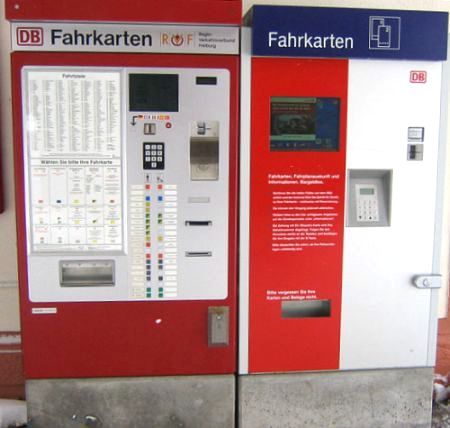 – The ICE is the flagship of the GermanRail system and provides high-speed connections between the principal metropolitan areas. Trains usually run every hour or sometimes even more frequently. There are now several generations of ICE, including new tilting trains which allow for high speed travel on conventional tracks. (See
There are a variety of tourist passes offered by GermanRail. These passes generally are a great deal and pay for themselves after a couple or three long-distance trips. The most popular is the GermanRail Pass. This pass, available for purchase only outside of Germany, allows you unlimited rail travel for 4 to 10 days (consecutive or non-consecutive) within a month. The GermanRail TwinPass is a discounted GermanRail Pass valid for two people traveling together. For travelers under 26, theres the GermanRail Youth Pass, which allows unlimited travel for one month. GermanRail also offers various fly-and-ride, drive-and-ride, holiday, and student passes. Check with your travel agent or on the web for prices and information on all passes. GermanRail passes are also valid for travel on DB buses (Bahnbus) and KD river cruises.
Relatively new to Germany are double-decker trains. These generally serve high-volume RE routes. Many regional trains have a special area for storing bicycles; those cars are marked with a large bicycle symbol on the outside.
In both the sleeper and couchette cars, the conductor or porter will take your tickets and passport and keep it for the duration of the trip to avoid having to wake you for ticket or passport checks. You will get them back when you arrive at your destination.
Recent years have seen the proliferation of dedicated hotel trains (NachtZug) connecting Berlin, Munich, Hamburg and Cologne, as well as some other specialty international hotel trains. These trains are basically full-service hotels on rails. They dont have regular seating, just sleeper compartments (see below for more information on these). These trains are a bit on the luxurious side with fares to match.
Passes can be purchased either through your travel agent or on the web. There are a number of agencies dealing with rail passes; Ive included links for ones I recommend at the bottom of this page.
Even though its declined a bit in recent years, trains in Germany are generally very punctual. While you may not be able set your watch by the trains anymore, the DB reports that 90% of trains arrive within five minutes of schedule.
Over the past few years, many cool new features have been added to the website. For instance, there is now a feature to automatically create and download a calendar item for your electronic calendar. There is a section that shows you the services and a map of the station or a map of the route. And theres even a section that will compare the estimated time, costs, and environmental impacts of the various other means of transport for your journey.
In addition to the above services, you may find an interesting train known as a Taxi or Railbus train. This is basically a bus on tracks and provides occasional service on routes that have low ridership. Just like buses, these trains usually only stop on request.
See the sectionOn Boardbelow for information on claiming your seat aboard the train.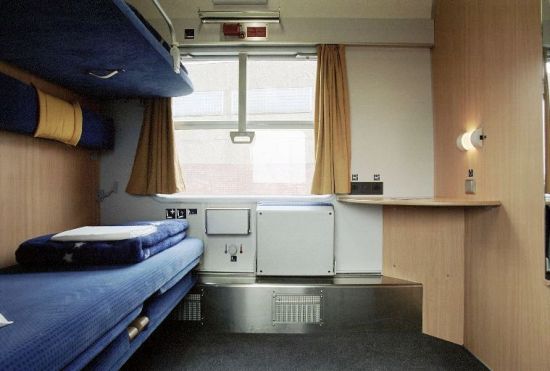 Sleepers feature private cabins with 1-3 bunks, mattresses and linens, and usually a small washbasin with hot and cold running water. There are sometimes also deluxe sleepers with cabins that also include a toilet and shower. Sleepers are full-service and attended by a porter who will provide whatever assistance you require. In most sleepers, you can get food delivered to your cabin, although expect to pay a rather steep premium for this service. On some trains, breakfast is included free. Sleepers are usually categorized as first class, which means youll need a first class ticket, pass, or supplement to book them.
If you purchase a pass, be sure to read the directions that come with it and follow them precisely. Ignorance is not considered an excuse for not properly using your pass and you may be fined (or worse, publicly humiliated) if you dont follow the required steps. (That said, if you really did unintentionally forget to note the date and are sincere when explaining, they will likely just have you fill in the date with a minor admonishment.) However, those steps are usually quite easy. Most require that you have the pass validated by a rail official at the station before the first use. You do so by going to a ticket counter at the station and presenting the pass and your passport to the agent. He or she will then stamp the pass and fill-in the valid dates. You can do this just before the first time you use it or you can do it in advance if you like; just make sure to tell the agent your desired validity start date if youre not going to start using it right away. Then, each day that you use your pass (including the first day), remember to write the date (dd.mm) in ink in the appropriate box on the passbeforeyou board the first train that day. If you have any questions, ask at the information desk or ticket office in the station.
Trains are divided into two classes– first and second. The cars have a large 1 or 2 on the outside near the doors indicating which class they carry, and the first class section often has a yellow stripe along the top outside edge of the car. In general, all services available on the train are provided for both first and second class passengers. The main difference is that first class seats are a bit roomier and there are fewer of them. That, and the fact that first class rates are around 50% higher, means first class tends to be less crowded than second class.
Although outgunned by its newer sibling, the IC is still an excellent service that supplements the ICE or connects some places that the ICE overshoots. Most all of the same amenities on the ICE are available on the IC as well. The EC is simply the international version of the IC.
If youre really interested in trains (or even marginally), I would recommend sitting on a platform at a major station for a while and watching the trains come and go. You will get to see all of the various types of trains and watch how precisely the system runs. I have done this many times and it still fascinates me just as much now as when I was a kid.
Both types of compartments have room to store luggage and usually also have locking doors. The conductors and porters also act as watchmen to keep out the riffraff. Its a good idea, however, to sleep with any significant amounts of money, credit cards, or plane tickets either locked in a secure bag or in a money belt safely on your person. You should also consider locking or at least clipping your bags to the rails.
GermanRail TwinPass; note the date boxes at the left center filled-in for each day of use

There are a variety of ways to purchase tickets nowadays; the method you choose will depend on your circumstance.
Couchette (pronouncedkoo-SHET) berths are a cheaper (and ergo less luxurious) form of the sleeper. Each couchette compartment has 4-6 bunks, and you will very likely be sharing your cabin with strangers of both genders. You will be provided with a pillow and blanket, but youll be expected to sleep in your street clothes or something similar (e.g. sweats.)
Tickets for trips on other European railway systems can also be bought at stations in Germany. Indeed, you can purchase tickets for trips between any two points in Europe (domestic or international) at any DB station. This is handy if you have a Germany-only pass and want to, for example, travel from Frankfurt to Paris. You can use your DB pass to get from Frankfurt to the border, but youll need a separate ticket from there to Paris. You can buy this ticket in Frankfurt by simply explaining this to the ticket agent. Theyll even figure-out which border crossing youll be using so as to get you the right ticket.
Reservation ticket for seats 23 and 24 in car 2 on the ICE 990 from Munich to Stuttgart
Individual point-to-point ticket fares and surcharges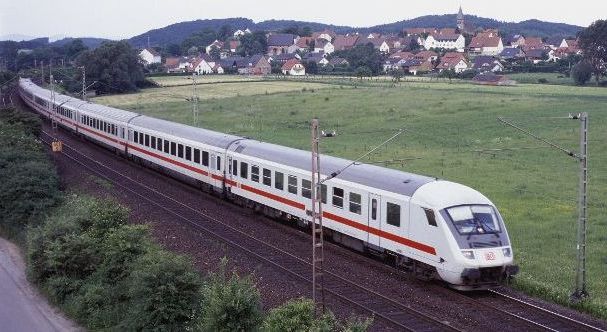 The standard fee is 4.50 for each seat reserved (5.50 for first class), but thats reduced by 2.00 if you get the reservation online or at a ticket machine at the same time you purchase your ticket. For groups of two to five people, you can purchase a family reservation (Familien-Reservierung) for 5.00 (7.00 for first class) if you purchase it online or at a ticket machine at the time as you purchase your tickets. In all cases, a reservation on one connecting train is included free (i.e. one fee gets you a reservation for one seat on your outbound train and on one connecting train.)
Aside from the hotel trains, there are many standard trains that run overnight, mostly the D-Zug services. These trains usually have sleeper (Schlafwagen) and couchette (Liegewagen) berths available. Most overnight trains also have regular seating cars, but fewer of them, and some may not have any regular seating at all.
Be sure to include Hbf (the abbreviation for
There used to be a day not long ago when you had to purchase the massive timetable book (Kursbuch) or call the DB if you wanted to check train schedules without trekking down to the station. Nowadays, while the timetable tome is still available (15 at any DB station), the Internet makes finding schedules much simpler (and free!) The DB has an excellent website– probably the best in Europe, and in English no less– from which you can get train schedules for all of Europe for any date and time. For most domestic and many international trips, once youve located your desired connection, you can then purchase and print your tickets.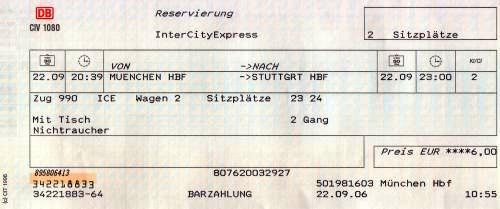 (e.g. Christmas 2010 is 25.12.10) and that time is on the 24-hour clock (e.g. 7:00pm = 19:00).
If all else fails:As a last resort, tickets can be purchased on board the train from the conductor for a small surcharge. Note, however, that this is only possible onlong-distancetrains; most local and many regional and short-haul trains no longer have conductors. Be sure to approach the conductor before he finds you; otherwise, it will appear as if you were attempting to be a stowaway.
Tickets or passes only guarantee passage from one place to another; they do not actually guarantee youseatedpassage. In most cases, you should be able to find a seat without much problem. However, seat reservations (Platzreservierung) are recommended on the busier routes, especially on Fridays, Sundays and holidays, and are required on a few trains (noted with a bold R on the schedule.) If not required, these reservations are purchased separately from your ticket, although you can purchase them at the same time you buy your ticket and have the fee included, and doing so usually will get you a discounted rate. You can book seats up to three months before departure all the way up to the time of departure.
The newfangled way:If youre up-to-speed with modern technology and dont want to wait in line or just fear face time with the Teutonic train emissaries, you have two options. One is to book and print your own tickets online at the DBs sleek website (see thetimetablessection above). Or you can use the relatively new and increasingly prolific self-service ticket vending machines (markedFahrkarten,Fahrausweis, orFahrschein) that youll now find in most stations. In the past, you could only use these to buy tickets for journeys of less than 100 km. Nowadays, you can purchase tickets and seat reservations for any distance from these machines, as well as obtain schedules, purchase local transit tickets, and get other information. Youll often get a slight discount if you purchase your ticket or seat reservation from the machine. The machines are multi-lingual and touch-screen operated and are fairly intuitive. Some of the machines only take credit cards, others only cash, and some take both, so double-check before you start to make sure the machine will accept your payment type.
If you have a rail pass that requires you to write-in the dates as you use it, and you use it on a direct overnight trip departing after 7:00pm, you are only required to fill-in the following days date.
Shortly before arrival at your destination, you will be awoken by the conductor or porter. If you are disembarking at the last stop on the line (which is usually the case), you will typically be allowed a reasonable amount of time to get up, get ready, and get off, especially if the train arrives before 7:00am.
Of course, timetables are still posted in the station (see At the Station below). You can also get quickie schedules from the new ticket vending machines now in most stations.
Schedule printout from station vending machine
With your ticket or pass and reservation slip in hand, head to the platform for your train. Once there, locate your assigned car and board it directly from the platform (more on doing that later). If you have a couchette reservation, you then locate your cabin yourself and settle-in. For sleeper reservations, you must check-in with the porter of the car where your cabin is located and theyll direct you from there.
There are many long-distance trains, both domestic and international, that operate overnight. Besides being a unique experience, night trains essentially add additional free time to your trip by allowing you to combine travel and sleep time. Many budget travelers use overnight trains entirely in lieu of hotels.
Sleeper and couchette services require a reservation and carry a surcharge on top of the regular fare or rail pass day. The surcharge varies depending on the type of accommodation, class, and distance. For instance, couchette reservations start at around 20 for destinations in Germany, while sleeper accommodations start at 40. You can book sleepers or couchettes up to three months in advance, either through a travel service or at a DB station. While you can theoretically reserve at the last minute, either at the station or even on the train, its best not to wait any later than a few days before your travel date to book as these services tend to fill-up, especially on weekends and holidays.
Its worth noting that Germany is a union country, and transport strikes (Streik) can occur at any time and for any ol reason, although it is still a fairly rare occurrence and there is usually plenty of advance notice. Still, travelers should be aware that even a short warning strike (Warnungstreik) in one city can ripple through the entire system causing long delays and even cancellations. On these days, be prepared to adjust your travel plans and wait longer than usual. An interesting note about these situations: since trains and punctuality are so important in the German world, conductors will hand-out official certificates of train tardiness (Bescheinigung ber Zugversptung) if a train is significantly late. You can use these as excuse slips for arriving late to work, school, or other appointments, or keep them as souvenirs of your encounter with European organized labor.
There are now three generations of ICE trains operating on over a dozen lines connecting all the major cities. The major routes run on special-built roadbeds that are straight and level and have welded tracks resulting in a smooth, quiet ride, while on other routes, new tilt-train technology has allowed ICE service on existing conventional tracks. The trains are pressurized to minimize the annoying ear discomfort to passengers caused by high speed travel through the many tunnels on the system.
The DB has numerous several special ticket offers including overnight fares, special weekend deals, and discount cards. Visit the DBs website or ask at the station ticket office for details on these.
Prior to 2002, most fares were calculated based on a flat, per-kilometer fare with surcharges tacked-on for faster services. Since the 2002 tariff reform and subsequent tweaking in 2003, the fare structure has become significantly more complex, much like the airline fare system (if you can call it a system.) Now, fares for each route and class of service are based on a combination of factors including a sliding-scale distance fare (longer distances are actually cheaper per kilometer now), speed and travel time on the route, and class of service. TheseRelationspreiseconstitute the standard fare (Normalpreis), against which an insane array of discounts are offered– far too many to be discussed here. In short, its best to just use the DBs website, automated ticket machines, or a ticket agent to find the best fare.
In addition to domestic service, various other high speed trains connect Germany to most neighboring countries. TheThaylsconnects Cologne to Paris and Brussels and provides a nice segue to the Eurostar to London. In conjunction with Frances TGV service, two high-speed links connect Frankfurt and Stuttgart/Munich to Paris. Some of the DBs own ICE routes cross into neighboring countries (Basel, Amsterdam and Salzburg are the major examples), and more international high-speed connections are in the works.
) if you want the central station for a large city (e.g. Stuttgart Hbf is the central station for Stuttgart). Berlins shiny new Hauptbahnhofopened in 2006 and essentially replaced the Zoo and Ostbahnhof stations as Berlins primary long-distance station. By the way, the (Main) in Frankfurt (Main) Hbf doesnt mean the main Hauptbahnhof (that would be redundant)– it means its Frankfurt on the Main River; theres another Frankfurt way over in eastern Germany on the Oder River, listed, of course, as Frankfurt (Oder).
If you dont want to spring for the couchette or sleeper, you can always try sleeping in the regular seats if the train has them. In open coach seating, youll have the same dilemma as sleeping on an airplane– seats that dont recline much and mysteriously get progressively more uncomfortable as the night drags on. Youll fare better in compartment seating. There, the seats usually can be pulled-out from the bottom. The back cushion then slides down behind the bottom cushion and the armrest folds up forming a cushioned horizontal surface. Pull two opposing seats out and you have a nice little bed for one, or pull them all out and have a nice queen-sized bed.
You may be prompted to pick a more specific station than the one you typed; if so, do your best to find what youre looking for. The DB timetables include local transit services as well, so the list may include bus stops, subway stations, or airports that closely resemble what you submitted.
The DB offers a complete hierarchical assortment of services identified by an alphabet soup of letters. Here are most of the train types and designations, in descending order of speed and coverage:
The German word for train station isBahnhof. If youre in a large city, you will most likely be using theHauptbahnhof, or central station. Stations are usually located in the very heart of the city, except in small towns where theyre often located on the edge of town. Large cities will usually have a number of suburban stations as well. Berlin used to have several main stations, with the venerable Zoo station serving as the major station in the western half of the city and the Ostbahnhof, which prior to 1998 had been called Hauptbahnhof, being the hub for the eastern
If you are going to be using a rail pass or already have tickets, you can ignore the pricing information. You may be prompted to fill-in your age– this is so the system can calculate the proper fare. Again, if you have a pass, you can feed it your pretend age.
The ICE and IC/EC are the fastest trains on the GermanRail roster and are the services that tourists use the most. Due to legal issues (its a long story), Germany fell a bit behind the curve in development of high-speed rail, with the 160 km/h IC/EC trains operating as the DBs fastest service until the ICE finally came online in 1991. However, the ICE (which is pronounced I-C-E, not ice) has rapidly made-up for the late start with trains that now reach 330 km/h, among the fastest in the world. The ICE has dramatically reduced travel time on nearly every long distance route. For example, the Munich to Hamburg journey, which took an agonizing eight hours in the old days, now takes a more tolerable six hours, and travel times along the Cologne-Frankfurt run, with trains hurtling along at the ICEs top speed, dropped from 2 hours to about one hour. Unfortunately, the ICE could shave even more travel time off the longer journeys, but due to political pressure, most ICE routes stop in some questionable should-a-long-distance-train-really-stop-here places.
Before you decide to purchase a pass, you should do a rough calculation of the cost of individual tickets for your planned train travel by using the DBs website. If the sum total of point-to-point tickets exceeds the cost of a pass (which it probably will if you have a couple of long-distance trips), then the pass will be a better deal. Unfortunately, you often cant get international rates on the DBs site. However, since international trips tend to be fairly lengthy and expensive, a pass will almost surely be a better value in those cases. Passes also offer the most flexibility if thats important to you.
Like any major transportation service, the DB offers a myriad of tickets, fare schedules, and special deals. Even railway officials sometimes have problems navigating the Byzantine structure of the DBs ticketing options. To top it off, train travel in Germany, while a good value, is a bit pricey. Fortunately, most tourists shouldnt need to deal with this hassle as rail passes tend to be a much better deal and are usually purchased from the relative comfort of your home.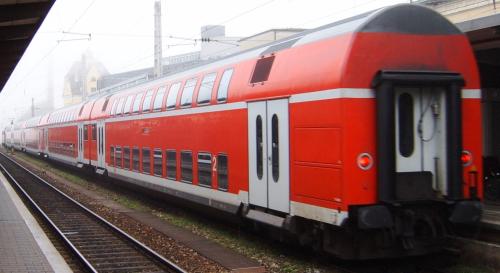 Germans are known to gripe about just about everything, but dont listen to them when they complain about their trains. Germany easily has one of the worlds best and most efficient passenger rail systems. There arent many places that it doesnt get to, and the trip will be comfortable, economical, and punctual. Europe in general has a high utilization of trains, and Germany is especially reliant on them. Other than the automobile, rail is by far the most common means of transportation.
– The venerable D-Zug is a fairly rapid long-distance train that provides connections on some of the lesser traveled routes or times. These trains now run almost exclusively overnight.
Long-distance trains (ICE, IC, and IRE) are usually white with red markings, while regional trains (RE, RB, SE, and S) are usually red with white or gray markings.
On many local routes serving smaller towns, trains alternate which stations they stop at. Often, the first train on the line will stop at all stations, then the next train a half-hour or hour later will only stop at selected stops (maybe every other station, or every third one), then the following train after that will again stop at all the stations. Another stopping pattern is when two trains running a half-hour or hour apart have the same starting and ending stations, but the first train will stop at towns 1,3,5 and 7 along the way, and the second train will stop at towns 2,4,6, and 8. If youre headed to an out-of-the-way place, be sure to double-check that the train you plan to board will actually stop at your intended destination.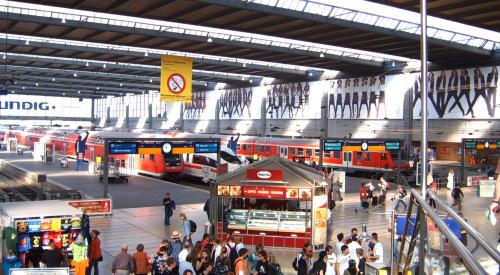 – These are high-quality express trains connecting the larger domestic destinations and hubs at speeds sometimes only slightly slower than the ICE. Trains usually run every hour or two and sometimes share alternating schedules with ICE trains. Many of these trains travel into adjacent countries as part of the EC (EuroCity) system.
Some tips: I suggest that you use the DBs website to determine the approximate fares ahead of time. That way, youll know if you are getting the correct fare when you purchase. If you have the time, Ive also been told its worthwhile to shop around at the station. Get a quote from one agent, then get a quote from a second agent. If they match, OK. If ones cheaper than the other, make sure youre getting the right ticket. If so, then go for the cheaper one.
The ticket agents can also help you find connections. Simply tell the agent where youre going and they will produce a computer printout listing the next few scheduled connections and timetables (much like the Personal Timetable service on the DB website above.)
Most ICE and IC/EC trains run hourly, usually at the same time each hour. It is highly recommended that you reserve a seat on these trains, especially on weekends and holidays, or you may end-up standing in the aisles or vestibules (more on seat reservations under Tickets below.)
The old-fashioned way:Go to the station, locate the departure timetable (large yellow schedules), and find the train that you need. Note the train number, departure time, and destination. Then go to the ticket counter (in larger stations, look forReisezentrumsigns) and give this information to the ticket agent. Many agents speak English, but if they dont, and you dont speak German, write the train number (e.g.ICE 123), departure time, destination, number of tickets (e.g.2 Tickets), and first or second class (e.g.2. Klasse) on a slip of paper and hand it to the agent. Be prepared to wait in line a bit as the ticket counters at most stations are not as well-staffed as they could/should be (Germans dont work cheap after all.) Also, make sure that the line you are in will get you the service you need– in some stations, there are still special lines for express service (just tickets- no reservations or information), and domestic (Inland) or international (Ausland) tickets.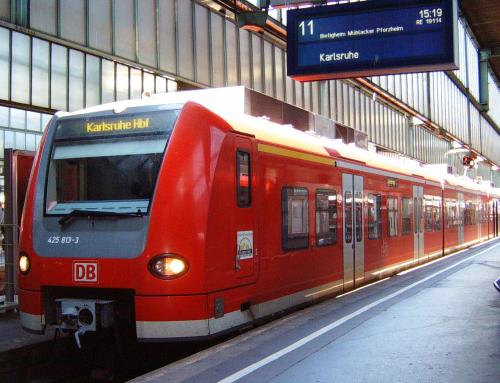 Although there are a few independent regional rail lines, the main passenger rail system in Germany is theDeutsche Bahn(DB, or GermanRail), also known colloquially as Die Bahn. Over 4.5 million people a day use the DBs29,000 trains serving over 5,500 stations along 35,000 km of track. The Deutsche Bahn was formerly a government corporation but is now completely privatized (although it is still owned entirely by the government.) It was created from the old West GermanDeutsche Bundesbahn(German Federal Railways) and East GermanReichsbahn(Imperial Railways). Connections between the former eastern and western halves of the country have been upgraded and expanded, and high-speed lines now reach all of the major eastern cities. Nearly all of the roadbed in the eastern part of the nation has either been upgraded or junked. The DB was developing the worlds first magnetic-levitation passenger train line between Berlin and Hamburg, but it was cancelled due to a number of political issues. But another maglev line, connecting Munichs central station and airport, is now being considered.